Aristotle and Dante Discover the Secrets of the Universe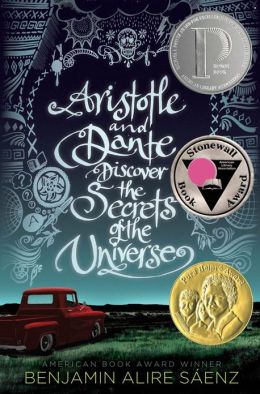 by Benjamin Alire Saenz has won a number of American awards and commendations including the Printz Honor Book, School Library Journal Best Book of the Year and Kirkus Reviews best Teen Book of the Year.
Fifteen year old Aristotle is not sure who he is. He has few if any friends. He does, however, enjoy bantering with his mother.
'What are you going to do today?' she asks him.
'I'm going to join a gang' he says.
'That's not funny' she responds.
'I'm Mexican. Isn't that what we do?'
'Not funny' she says.
'Not funny' agrees Aristotle.
Whilst Aristotle is at the local pool, he befriends a teenage boy called Dante and they form an intense bond.
Over time, Dante, an artistic teenager, is able to break down barriers that Aristotle has built around himself.
The reader slowly discovers that Dante is gay. What happens next is a journey for both young men that involves inner strength and bravery.
There are many things to admire about this novel and the relationship that both boys have with their parents is one factor.
The writing is clever and honest, depicting the lives and challenges of American/Mexican families.
Highly recommended reading.
-Ann