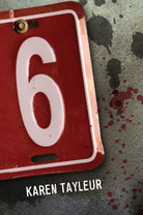 6
by Karen Tayleur begins with a horrific car accident that follows a school formal after-party. Six people are in the car. There are five seatbelts. Are there any survivors?
Karen then takes us back to the beginning. We are introduced to the six teenagers:
Tom, whose goal in life is to be rich. Finn 'fish' Cashin who lives and breathes footy. Intuitive Poppy who reads auras, palms and can foretell the future. Nico, who lists 'school holidays' as his school highlight. Then there is high achieving Sarah. And lastly, Virginia, whose ambition is to be famous.
Friendships are not always as they seem and several of these teenagers are holding secrets from each other. Then a body is discovered in the woods and tensions mount.
This is a strong teenage novel written by an Australian author who lives close to the Dandenong Ranges.
-Ann