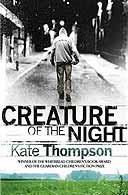 'Creature of the Night'
was the winner of both the Whitbread Children's Book Award as well as the Guardian Children's Fiction Prize.
It is a gritty novel, written by Kate Thompson.
Set in Ireland, Bobby's mother moves the family to the countryside in an attempt to escape their many problems.
Right from the start Bobby makes his negative views known. His thoughts remain firmly on returning to Dublin and the street life he knows so well.
Bobby is no angel. Crime has been a way of life for him for years. For Bobby and his mates, a good night out consists of drugs, crime, alcohol and joyriding in stolen cars.
So how will he cope with all the fresh air and wholesome living in a rural environment?
His mother, too, has ongoing financial problems, borrowing money from one person to the next in a futile effort to get by from week to week.
However, a glimmer of hope appears when Bobby gets to know the family up the road and begins to understand farm and mechanical labour.
-Ann